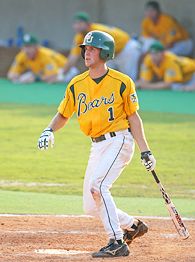 The Baylor Bears recruiting class has been rated number 1 in the nation by Baseball America. The reason for this is that the 2005 CWS run gave the program some national exposure and positive press. The Baylor staff was fighting to get rid of the stigma from the basketball tragedy in 2003. It looks like they have overcame the challenge.

There are also some news and notes in tea article about UNC reloading and Oregon State shuffling up their rotation for next year.

Full article available here.