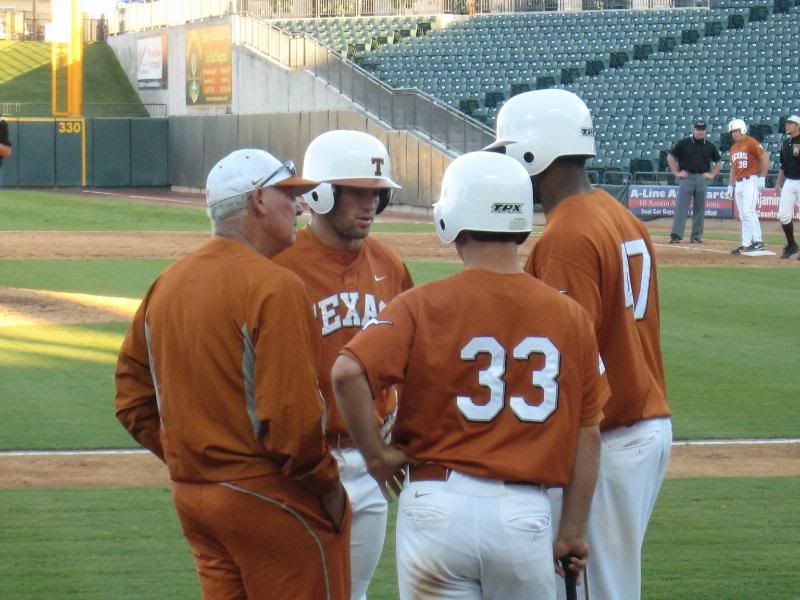 FROM PRESS RELEASE
The University of Texas baseball squad dropped an exhibition game to Texas State University, 4-3, Friday afternoon at The Dell Diamond in Round Rock.
Texas State took the lead in the third inning with a run and inflated the cushion to 2-0 with a run in the fourth. Adam Witek hit an RBI single to drive in Cody Gambill to break the scoring seal for TSU. The second run came on an RBI double to the gap in right centerfield by Ben Theroit.
Texas shaved one run off the lead in the sixth inning with when Jordan Danks drew a leadoff walk, stole second base and scored on a throwing error an a ground ball by Cameron Rupp.
The Longhorns knotted the score in the seventh inning with another unearned run. Kyle Lusson drew a leadoff walk and a throwing error on a ground ball by Tant Shepherd put runners at the corners. With one out, Travis Tucker plated Lusson with a sacrifice squeeze bunt.
Texas State responded with two runs in the top of the eighth. Paul Goldschmidt drove in the go-ahead run with a single up the middle and Jerry Cervantes tacked on an insurance run with an single through the left side of the infield, staking the Bobcats to a 4-2 lead.

Kevin Keyes hit a home run over the leftfield wall with two outs in the ninth, his second home run of the exhibition season.
Brandon Workman, UT's starter pitched two scoreless innings yielding two hits while striking out two. Stayton Thomas also pitched a pair of scoreless innings allowing one walk. Kyle Walker pitched a scoreless inning with two strikeouts and one walk.
For TSU, Mike Heart and Steven Siers each booked two scoreless innings.
Texas returns to action on Wednesday, Oct. 31, with the Orange-White World Series at 4:30 p.m. at The Dell Diamond.
For the rest of my pictures click
HERE.